There are many aspects to a wedding ceremony. In this article, you will learn about the order of events, readings, vows, and decor. Depending on your personal taste and style, you can flip things around or eliminate them altogether. The key is to create a wedding ceremony that suits you and your partner.
Order Of Events
When planning a wedding ceremony, it's important to plan the order of events. The order of events in a wedding ceremony will depend on the type of ceremony and the traditions of the bride and groom's religion. The best man and maid of honor will make toasts to the couple. They'll be followed by other invited speakers, including the bride and groom's parents. After the speeches, the newlyweds will make their first dance. This will happen after the guests have eaten dinner.
After the entrance music, the wedding party will stand to greet the bride and groom. The ring bearer, flower girl, and maid of honor will then lead the procession, with the bride entering last on her father's arm. After the bridal party is in place, the minister will introduce the bride and groom, and ask whether anyone in the congregation objected to their marriage.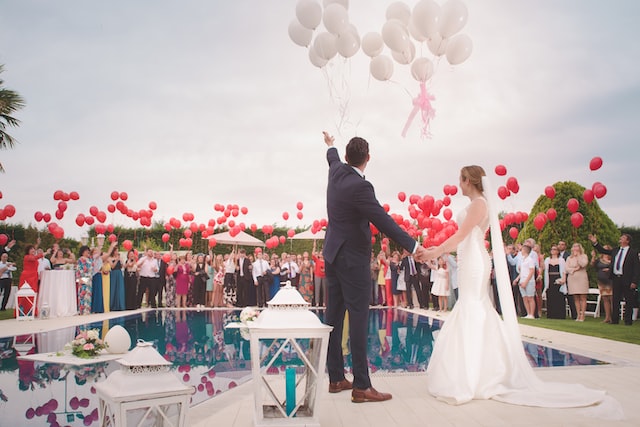 Readings
There are many choices when choosing readings for a wedding ceremony. They can be anything from a love poem to a passage from the bible. They can also be from a movie or television show. They can be funny or inspiring to your guests. Whether your wedding is a traditional church service or a more unconventional wedding, readings can add an extra special touch to the ceremony.
Before choosing readings for your wedding ceremony, take some time to think about the theme of your wedding. If the wedding is religious, it is important to discuss this with your officiant. They may be able to suggest a reading that will make your ceremony feel more personal.
Vows
Vows in a wedding ceremony represent the commitment of two people to each other. These statements can be short and sweet, or they can be lengthy and meaningful. Generally, the vows are recited in front of a church altar. Couples are expected to keep their vows to each other, in good health or in sickness.
Vows in a wedding ceremony should reflect the personalities and interests of the couple. Traditional vows, often religious, can be romantic and meaningful. Those of a less religious or non-religious background can choose vows that express their feelings and honor their values.